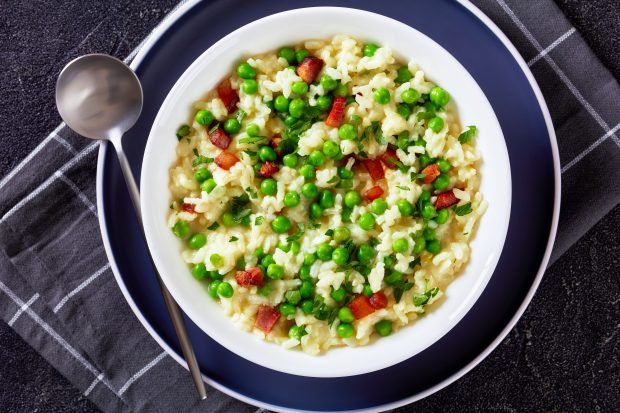 Let's make risotto with vegetables according to the classic Italian recipe. The dish has a bright taste and a delicate viscous structure. It is hearty and low-calorie at the same time - ideal for vegetarians and will be a good addition to a lean table
Step-by-step cooking recipe
Prepare vegetables: carrots, bell peppers and zucchini cut into small cubes, celery and leeks - half rings. Fry all the vegetables in half a serving of preheated olive oil, stirring, for 10 minutes.
In another frying pan, stirring occasionally, heat the rice in the remaining preheated oil for 5 minutes. The rice should become transparent. Add 200 ml of broth, stir and cook until the broth evaporates.
Put the rice in the pan with the vegetables, add the frozen green peas. Add the remaining vegetable broth, stir, add salt to taste and cook over low heat for 10-15 minutes. Rice in a classic risotto should become soft on the outside and hard on the inside.
Serve ready-made risotto with vegetables to the table hot, spread out in portions in plates and garnished with fresh herbs.