Chicken soup with spinach, beans and melted cheese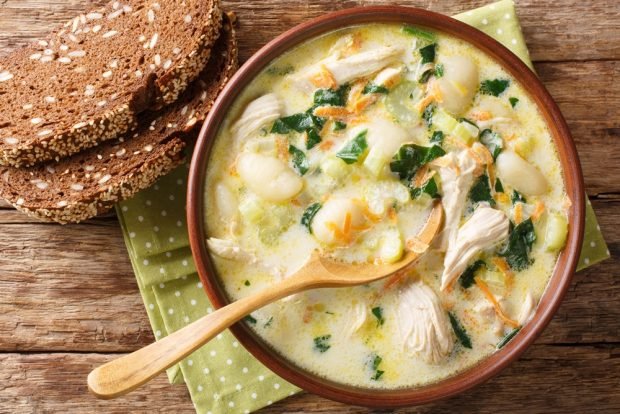 This is one of the most unusual chicken soup recipes in my arsenal. And all because it harmoniously combines such dissimilar ingredients – beans, processed cheese and spinach. It turns out both delicious and beautiful.
Step-by-step cooking recipe
Fill the beans overnight with water, and in the morning boil until half-cooked.
Fill the chicken with water and boil for about 40 minutes. Remove the meat, chop it and return it to the pan.
Add the beans to the boiling broth and continue to cook.
Finely chop the onion, grate the carrots and lightly fry.
Add the chopped garlic and spinach, and fry for another 2 minutes.
Send the roast to the soup and boil for 5-7 minutes.
Add grated or finely chopped melted cheese and cook the soup until it melts completely.
Stir, add spices and remove from heat after a minute.