Poke with salmon, avocado and rice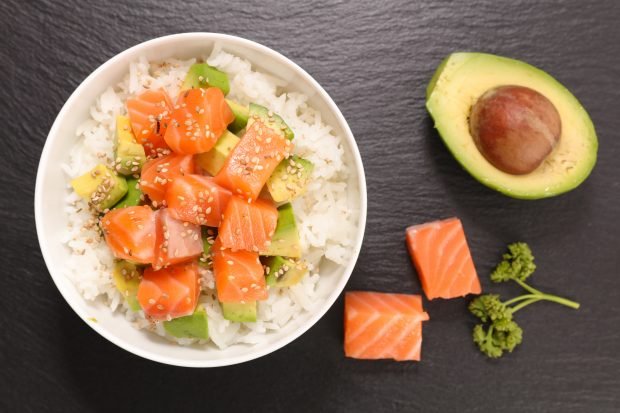 This dish is jokingly called "lazy sushi". And indeed, poke with salmon tastes very similar to Japanese rolls, the only difference is in the serving. Take the freshest fish and high-quality rice for this snack and enjoy a wonderful dish of Hawaiian cuisine.
Ingredients
Step-by-step cooking recipe
Wash the rice, boil until tender, transfer to a bowl.
Cut salmon fillet into identical slices, avocado pulp into slices. Put everything in one container and marinate with a mixture of soy sauce and lemon juice. Put it in the refrigerator for 10 minutes.
Pour the marinade, which the fish has not absorbed, over the rice, mix and add salt to taste. Put the rice on serving plates.
Put pieces of pickled salmon and avocado on top of the rice, sprinkle with sesame seeds and garnish with sprigs of fresh cilantro.