Salad &171;Caesar&187; with shrimp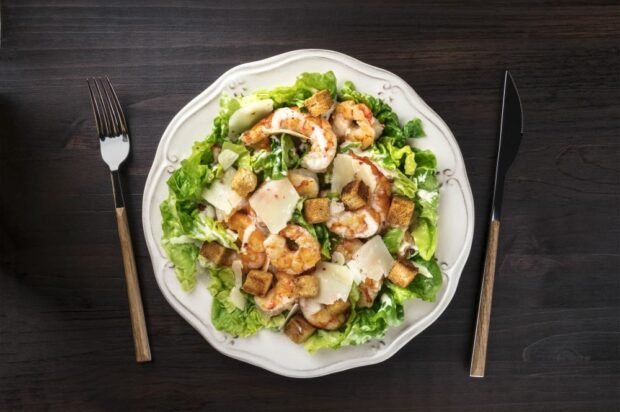 I offer you another recipe for your favorite Caesar salad. This time we will cook it with shrimp and a special sauce. Everything is very simple, delicious and fast. Even with the preparation of the sauce - the whole process will take no more than half an hour.
Ingredients
For Salad:
For sauce:
Step-by-step cooking recipe
Pour the shrimps into boiling water, boil until tender and discard in a colander.
Wash the lettuce, shake off the water and tear into small pieces.
Grate the parmesan on a special grater.
In a separate container, mix mayonnaise with lemon juice.
Add the garlic passed through the press and the parmesan grated on a fine grater. Mix everything well.
In a wide bowl, mix the shrimp, salad leaves, parmesan and salt.
Pour over the sauce, sprinkle with crackers and red pepper flakes.