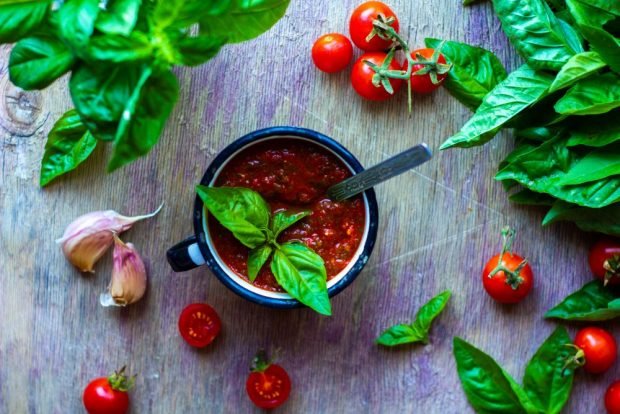 Without a doubt, this is a universal sauce. Add it to the second course, use it in gravy for soup or close it in jars for the winter — it's always delicious and appropriate. I think there are enough arguments to cook sugo sauce with basil right now.
Step-by-step cooking recipe
Peel the tomatoes and chop them in a blender.
Finely chop the basil, peeled onion and bell pepper.
Fry the onion in oil until transparent.
Add the bell pepper and continue cooking for 5-7 minutes, stirring frequently.
Add tomato juice, salt, sugar and simmer for 15 minutes on low heat.
Add the basil, pour in the lemon juice and boil everything together for another 10 minutes.
Puree the sauce with an immersion blender until smooth.
Return to the heat and warm up for another 2-3 minutes.